For our Jim Ellis customers and longtime Atlanta area residents, it is no secret that Jim Ellis, founder of Jim Ellis Automotive Group, has always been one to look for opportunities to give back to the communities our stores serve. In the spirit of Mr. Ellis' passion for service and generosity, we wanted to recognize some of our own employees that make a practice of finding ways to serve others in their community. 
 
Audi Atlanta employee cares for therapy animals
One Audi Atlanta employee that stands out as someone who is selfless and humble is Andrea Drinkard in the Business Development Center (BDC). For six years now Drinkard has weekly volunteered her time at
McKenna Farms
, a non-profit organization in Dallas, Georgia that offers hippotherapy (or equine therapy) services to boys and girls with special needs. Serving over 500 children weekly, McKenna Farms provides innovative programs for physical, occupational and speech therapy utilizing the equine movement of hippotherapy and therapeutic riding.  
Spurred by a passion for horses and helping others, Drinkard found a place where she could use her time and talents to serve a greater purpose in her community. Having a love for horses since she was little, Andrea uses her knowledge of horse care to assist with taking care of the animals that help the children served reach their full potential. 
 
"Andrea has been a valued longtime volunteer here with us at McKenna Farms," said McKenna Farms Barn Manager Yvette Adams. "She is a nighttime feeder that is always dependable and responsible.  She has great attention to detail and gives the best possible love and care for our horses. We love her!"
 
When asked about the most rewarding part of volunteering in these types of equine programs, Drinkard mentioned an experience while volunteering at Chastain Horse Park where she got to be part of a therapy session for a group of blind children. She got to watch the children experience the horses being their "eyes" and the joy that it brought them. 
 
Drinkard was secretly nominated for this recognition by BDC Manager Heidi Turner who had this to say about her:
"Andrea is overall a selfless person. She's a giver but can't stand the attention for doing good things."
 
Drinkard explains her motto to live by as that of having gratitude and chasing your blessings. This attitude shows clearly through the way she treats others and how she gives of herself to her community. 
 
"It is not at all surprising that Andrea is receiving this recognition," said Audi Atlanta Vice President Tracie Maloney. "Andrea is one of the kindest, most giving people you will ever meet.  I am proud that she is on our team and so happy she is being recognized for her good work at McKenna Farms."
Volvo Cars Mall of Georgia is full of public servants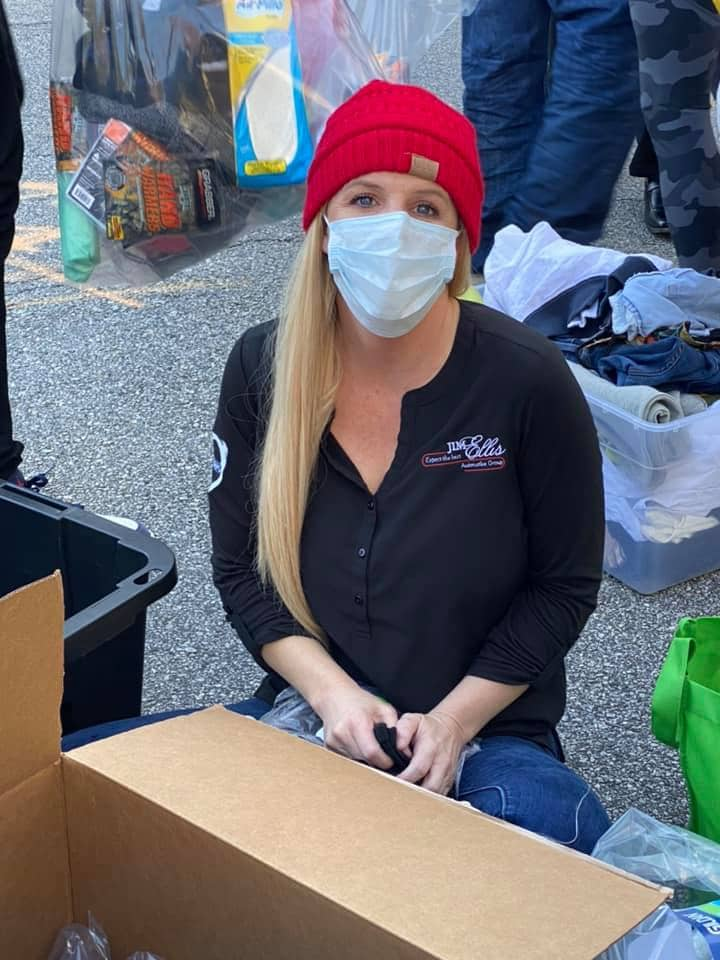 Multiple nominations for Jim Ellis Community Heroes came out of our Volvo Cars Mall of Georgia store and are definitely worth mentioning. This particular Volvo store has for the past few years become involved with
Project Warm Up Atlanta
at the urging of Marketing/Events Manager Danielle Hines. For a number of years now, Hines has personally participated in the distribution of sleeping bags, toiletries and cold-weather clothing to the homeless on Thanksgiving Day through Project Warm Up Atlanta.  
"She sacrifices her time with her family on Thanksgiving to go to downtown Atlanta and give to those who are less fortunate," said Volvo Cars Mall of Georgia Sales Manager Tim Dalton. "She never asks for praise or recognition and solely does it because she is an amazing person and has such a big heart."
 
In fact, Dalton attended this year's Project Warm Up Atlanta distribution event on Thanksgiving Day and the dealership donated $50 from each vehicle sale over several months to the cause, resulting in $10,000 raised to help purchase items for distribution to the homeless in Atlanta. 
 
Another group deserving of recognition from Volvo Cars Mall of Georgia is one that stepped up to the plate just as COVID-19 hit and everyone was scrambling to try and figure out what it all meant and how to have meaningful connection with others in the midst of keeping distance. Volvo Cars Mall of Georgia employees Spencer Brattain, Michael Wollan, Marcus Wise, Ken Wang, Chris Stout and Richard Nourie helped teachers of Sycamore Elementary School put together a distanced parade through the neighborhoods of their students at the end of March. 
The Volvo Cars Mall of Georgia team provided vehicles and served as drivers for the teachers as they paraded through local neighborhoods to share a wave and smile with their students. In addition, Volvo Cars Mall of Georgia staff secured participation from the Atlanta Falcons and Freddy the Falcon himself! The parade traveled over 30 miles and lasted close to six hours in an effort to make sure all Sycamore Elementary students had a chance to see their teachers. 
 
"The smiles from on the kids' faces and the joy from the teachers was worth every minute of our time," said Volvo Cars Mall of Georgia Service Manager Chris Stout. "This was 100% voluntary and these employees gave up a day off to support their local community." 
?
These Jim Ellis Community Heroes mentioned represent only a small number of those in the organization that practice giving back to their local community. We are thankful for all of the wonderful Jim Ellis employees and the way that so many of them represent the Jim Ellis Automotive attitude of giving back!