Automobile accidents are scary. Navigating repairs from an accident can be just as scary. Everyone wants their vehicle restored to what it was before an accident occurred. The staff at
Jim Ellis Collision Center
wants that for your vehicle as well. Let us be your ally the next time you find yourself in need of body work.  
With years of experience navigating the ins and outs of working with insurance companies on repairs, you can rely on the team at the Jim Ellis Collision Center to take the stress and guess work out of your repair process. Having been part of Jim Ellis Automotive Group since 1973, the collision center team knows a thing or two about helping make your vehicle whole when you find yourself in need of body work.
 
Here are some answers to commonly asked questions that will help you know what to expect when you find yourself in need of the services offered by the Jim Ellis Collision Center.
What vehicles do you repair?
Our team specializes in repairs on 16 makes of vehicles, all 15 Jim Ellis Automotive Group brands and the Saab brand. We try to focus mainly on those brands to make sure we are ready to serve our current customers. We have a number of brand-manufacturer certifications for Jim Ellis brands including Porsche, GM (including specialty Corvette), Hyundai, Kia, Maserati, Alfa Romeo, Volkswagen, Audi (including Ultra Advanced Lightweight Material models) and Volvo. The Collision Center also has I-Car and ASE Certifications that carry over to multiple brands.

How do I get an estimate on a repair?
Our goal is to make the estimate or consultation process as simple as possible. There are a number of ways to receive an estimate. There is always the old-fashioned way of driving in and meeting with one of our estimators — appointments are not necessary. We also offer phone/photo consultation where you can provide photos of the areas in need of repair and other information our estimators need and they can provide an estimate to you that way. We are happy to work with customers to make the experience as efficient and convenient as possible.
 
What will my repair process look like?
There are many details to address and consider in a collision repair, so each customer and repair are unique. All clients can expect great customer service and the fulfillment of the
Jim Ellis Promise.
Each client can expect a repair experience that is specifically tailored to their needs and that exceeds their expectations. Generally, the process will start with an estimate. From there next steps may include scheduling repairs, coordinating repair details and payments with insurance companies, and securing a rental vehicle. Whichever items are part of the repair process; our staff is ready to walk each client through what to expect with their specific repair needs. Once the repair begins, clients can also expect regular communication from our team on the status of their vehicle repairs.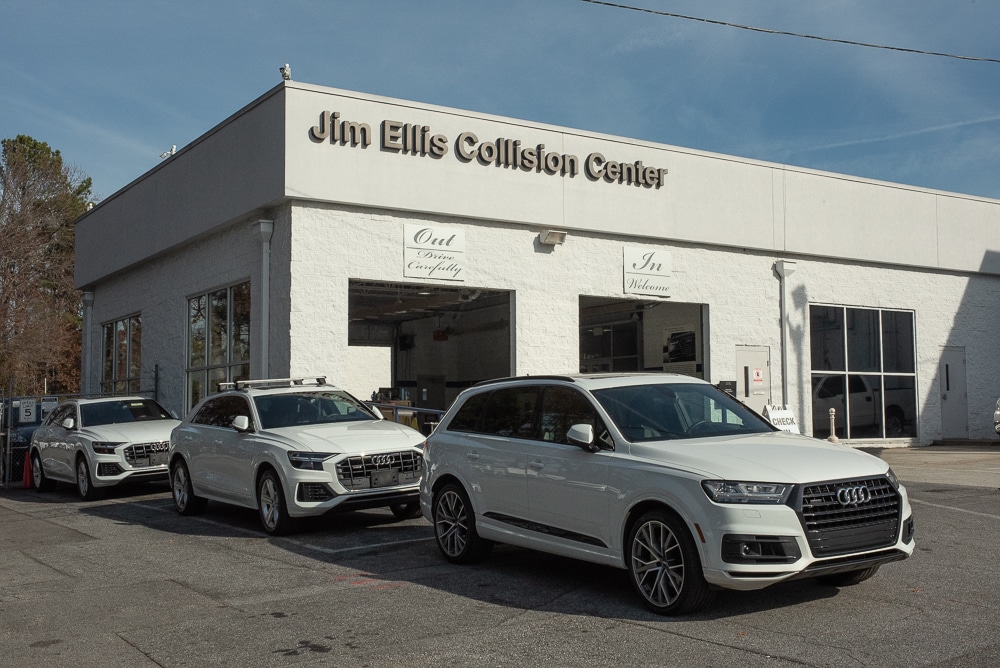 How far in advance do I need to schedule my repair?
We have immediate availability at this time for repair work, so it can be setup as quickly as a client needs it. In addition, we maintain immediate consultation availability to make sure we always have staff ready to consult with clients needing an estimate and repair information. There may be times where we have a backlog of repairs, but our estimators will work with each client to customize a repair plan that works for them.
 
Do you use OEM parts or after market?
It is rare for us to use alternative parts in the repair process. We make a concerted effort to stick to the OEM parts (original equipment manufacturer) whenever possible. Customers that have used us before and insurance companies that have worked with us just know and expect that we will use original parts.
 
How do you work with insurance companies?
Cost of repair is a major priority to the insurers. We have a number of things we do to make sure we are efficient with both and time and money so as to best stay within the confines of the insurance company. Our teamwork, accuracy, attention to detail and a true desire to work together toward the goal of repairing the vehicle helps with this. Clients won't need to worry about going back and forth with their insurance company as repairs are scheduled and performed. Collision center staff can handle all communication and negotiations with the insurance company to ensure that your repairs are made in the best way possible and are covered by the insurer.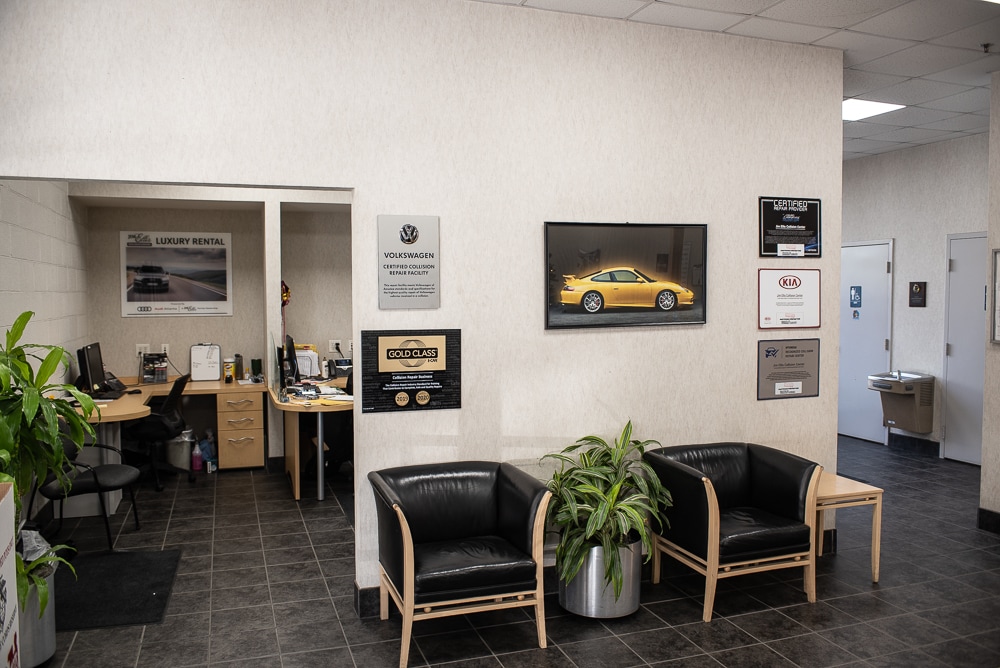 Do you provide a rental car service onsite?
For added customer convenience, the Jim Ellis Collision Center has a vehicle rental service available onsite. In partnership with Audi Atlanta, the Audi Atlanta Rental Department is located just off our main lobby and has really helped us step the rental experience up a notch. In addition to being able to expect great customer service from our rental team, clients now also have the option to rent a high-end vehicle/brand to enjoy driving while their vehicle is being repaired. Just be prepared that many of our Audi renters go on to become Audi buyers after experiencing the vehicles!
 
What else do you offer to clients to make the repair process easier?
We have after hours drop off available to clients. We work with our customers to arrange repairs in a way that is most convenient for them. With Jim Ellis Automotive represented throughout metro Atlanta, we have staff available in many areas so we can make ourselves available to meet customers at their point of need. We can arrange pick up and drop off or towing to and from when needed. The end goal is to create a repair experience that works for each customer's unique needs. That's just part of what we do. Lastly, clients can count on our limited lifetime warranty that is provided on each repair. 
 
How has COVID-19 affected how you do business?
COVID-19 has changed the way we perform almost every service we provide. You can see the differences from the time you drive up to the collision center. You will see signs directing the traffic flow into the shop. A masked customer service representative meets each guest outside. We check temperatures and offer courtesy masks for anyone that may need them. Customer consultations, check ins and check outs are all performed in our open-air drive. These new practices are in place throughout the repair process.
Our goal is to produce superior quality work at a fair price. A proper repair protects the value for your vehicle. We have the equipment, staff and training to perform repairs properly. The next time you find yourself in need of vehicle collision repairs, reach out to the Jim Ellis Collision Center online at
JimEllisCollision.com
, by phone at 888.819.8939 or in person at 5849B Peachtree Road, Atlanta, GA 30341.